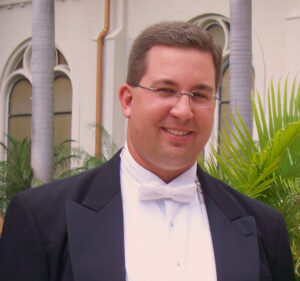 Jeffrey Alban
Jeffrey Alban makes his career as a choral conductor, organist, and music educator. Dr. Alban is currently the Director of Music and Organist at Saint John the Baptist Roman Catholic Church in Front Royal, Virginia, where he oversees a choral program comprised of two adult mixed choirs, a Gregorian chant schola and two children's choirs in addition to playing the organ. He is also the director of the Blue Ridge Singers, a new community chamber choir in the Shenandoah Valley.
He holds the Doctor of Musical Arts degree in choral conducting from the University of Miami in Coral Gables, Florida, where he studied with Jo-Michael Scheibe, Joshua Habermann and Donald Oglesby. As part of this degree program, Dr. Alban researched the life of the Belgian composer and organist, Joseph Jongen and wrote an analysis of Jongen's Messe en l'honneur du Saint-Sacrement, Op. 130. He also had the opportunity of participating in masterclasses with renowned conductors including Paul Salamunovich, Weston Noble, Helmuth Rilling, Robert Porco and Marin Alsop. Dr. Alban also holds the Master of Music degree in organ performance from the Peabody Conservatory of the Johns Hopkins University. Dr. Alban received the Bachelor of Music in organ performance and the Bachelor of Science in music education degrees from Duquesne University, magna cum laude. He was also the recipient of the André Marchal award for excellence in performance. As an organist, Dr. Alban has studied with acclaimed artists John Walker, Donald Sutherland, Gillian Weir, David Craighead, Ann Labounsky and Kyler Brown. While at Duquesne, Dr. Alban was a member of the award-winning Duquesne University Chamber Singers under the direction of Brady Allred, touring throughout Canada, Europe, and the northeastern United States. He was also a conducting student of Dr. Allred.
Dr. Alban is an active member of the American Choral Director's Association and has performed at its national conventions in New York City and Miami. Dr. Alban served as a member of the American Guild of Organists National Committee on the New Organist for six years. This committee oversees the AGO-sponsored Pipe Organ Encounter program, as well as formulating new programs for new organists. Dr. Alban has attended numerous Pipe Organ Encounters held across the United States serving as event director, adjudicator, and faculty. He was the dean of the Duquesne University Chapter of the AGO from 2001-2004, and holds the Colleague certification from the AGO. Also, Dr. Alban served as the director of the Shaler Area High School Varsity Singers in Pittsburgh following his student-teaching placement there. Dr. Alban was a member of the Bach Choir of Pittsburgh from 2000-2004, serving as a member of the artistic staff as an assistant conductor and organist. Throughout his life, Dr. Alban has been focused on bringing young people to the pipe organ and choral music.
Dr. Alban is married to his wife, Kay; they have two sons, Matthew and Christopher, and a daughter, Jacquelyn. They make their home in Winchester, Virginia.