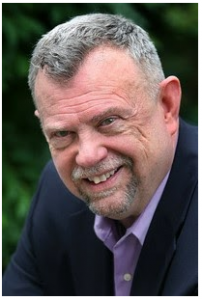 INTRODUCING DAN MILLER
Every musician you see on stage has a story of how music became something important to them. If you happen to ask Dan Miller, who has accompanied the Blue Ridge Singers for many years, where the music comes from, the talent that has shaped his life, he pauses a bit. His mom and dad both sang around the house, and he acknowledges that his dad had a particularly good voice. Yet it was not inevitable that he would go into music; it certainly was not the family business. His story starts mostly with good music teachers in school and at church.
He began with piano studies, later branching into playing the organ for churches in the area, which is where the choral teacher at his high school heard him. She knew he could read music, and so recruited him for the high school choir, which was always in need of male voices. He enjoyed singing but he preferred the role of the collaborative pianist, accompanying choirs in performance and supporting them in their rehearsals.
The road from his young life in Western Pennsylvania to Shenandoah Conservatory was largely a result of the urging of an uncle, a pastor in Leesburg who was aware of the school's reputation. Eventually he earned his bachelor's degree and two master's degrees there.
In a way, he has come full circle as a musician. He has done a variety of things in his career including musical theater and working with the Washington National Opera Institute, but church music has always been a passion, and he's currently the organist and director of music at Trinity Episcopal Church, Upperville.
It is not an easy career; often musicians have to string together several jobs in order to make a living. But Dan says, "I wouldn't trade it for the world." Sometimes there are even perks. Dan has gone on music-related trips to Europe twice. The first was as accompanist for the Shenandoah Conservatory Choir, affording him the opportunity to play in some of the great churches of Europe. Two years ago he returned, accompanying the Women's Choir. One of the most uplifting moments of his career was being able to hear the choir sing in Salzburg in the very place where Mozart performed years ago. One of the things that is most important to Dan is the pleasure he has in seeing students he has taught or helped succeed. He is happy to think that perhaps he has had an impact on them that has led to good things in their lives.
Traumatic stage moments have, happily, been few, but he does remember a dress rehearsal (thankfully not the performance), for a school's musical. He played an electronic keyboard in the pit but had to move to the grand piano on the floor level in front for one song. When he got there, he discovered the keyboard was locked. As the student stood next to him, waiting for the intro, he sat helpless until someone came with the key.
Sports figures sometimes have quirky pre-game rituals. Dan once donned a pair of pink socks with a blue skull and crossbones insignia for good luck during a run of "The Pirates of Penzance" in which he was serving as music director and pianist. Pre-concert, he eats two bananas and a McDonalds grilled chicken sandwich, no toppings. The bananas provide some calming effects, and the protein in the chicken sandwich ensures no hunger fatigue overtakes him mid-performance.
Dan met up with Dr. Alban after Jeff became director of the Blue Ridge Singers, and after talking and discovering they had similar musical tastes and approaches, Dr. Alban invited him to play for the Singers. Though he is rarely in the spotlight, we are grateful for everything Dan brings to a Blue Ridge Singers concert, and for the collaboration he and Jeff have built to bring this music to Valley audiences.